Did you know that you can reach audiences in six of southern New Jersey's core counties with a single ad?
New Jersey Free Press is New Jersey's fastest growing independent community news organization, with print, digital and radio programming targeted to meet the unique informational needs of New Jersey residents and businesses. We publish monthly and carry news and information from more than 55 municipalities in the six county area of Southern New Jersey, including the counties of Atlantic, Camden, Cape May, Cumberland, Gloucester and Salem (and next year, in Burlington and Ocean Counties!).
We also have limited distribution in the City of Philadelphia!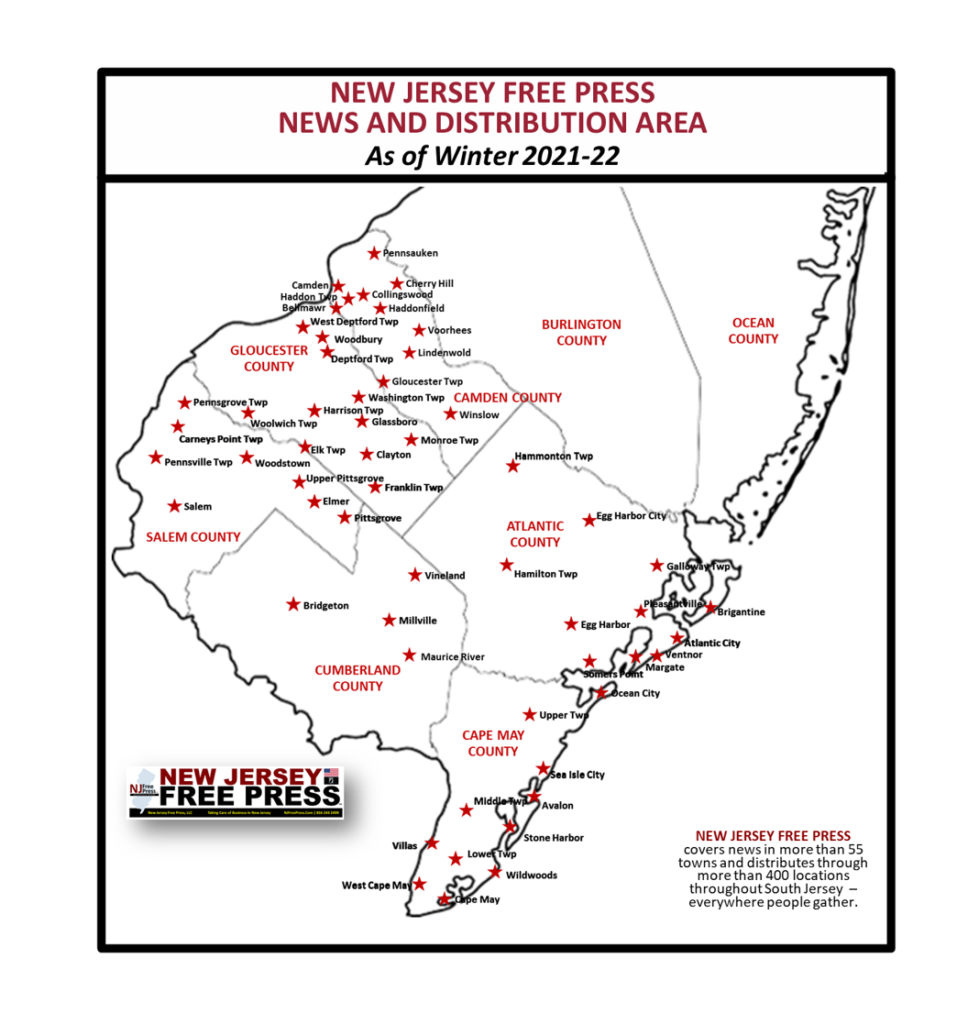 The New Jersey Free Press newspaper is distributed monthly through libraries and municipal offices, leading convenience, grocery, liquor, book and specialty stores, restaurants and clubs, and other locations where people gather – MORE THAN 400 in all and growing! 
We are the ONLY non-daily news organization able to deliver your message to this market, with distribution from Pennsauken to Cape May, Salem to Brigantine.
Call us, at +1 856 243 2499 for more information!
PLEASE SEE OUR 2021 MEDIA KIT
We reserve the right to insert the word "advertisement" in all ads, especially "all copy" ads which may be mistaken for news articles.
We want your ad to be accurate and correct. Should there be an error and it is our fault, however, we will give you a correction letter and a discount which is deemed appropriate by the management for the space occupied by the incorrect copy. However, we must be notified in time to correct the advertisement before a second insertion. Credit is allowable for the first insertion only. In the event of error or omission we will, upon request, furnish a letter stating the correction, but will not assume any liability for any difference if goods are sold at the incorrect price nor is the advertiser required to sell the product or service for the incorrect price. New Jersey Free Press LLC will not be held liable for any loss due to omission of advertising material.
The advertiser agrees to indemnify and hold harmless the publisher against any and all loss, damage, cost and expense which the publisher may incur or become liable for by reason of any and all claims or actions for libel, violation of right of privacy, plagiarism, copyright infringement, and any and all other claims in connection with advertising matter published pursuant to the terms and provisions of the contract, including without limitation the expense and cost of defending any and all such claims and actions.
Due to production limitations we do not guarantee positions, nor is advertising accepted for publication subject to position. Failure to comply with a position request will not result in a "make good" or refund.
POLITICAL AD POLICY: All political ads must be emailed in PDF format, or faxed to our Clayton office at (877) 278 0366 prior to their acceptance for insertion. After approval, ads must be paid for 30 days prior to run. All ads must abide by the state and (when applicable) federal political advertising laws. All ads must include the statement: "Paid for by ______ (Name of candidate, candidate campaign committee, political party organization, political action committee, referendum committee, individual or other sponsor.) An ad that opposes a particular candidate must disclose the candidate it is intended to benefit and whether the ad is authorized or not authorized by the candidate. These disclosures must be at least 5% of the height of the printed space and be at least 12 point in size no matter how small the ad is. All political ads must be paid for by check along with written authority for each expenditure from each candidate, treasurer or individual making or authorizing expenditure. Checks can be mailed directly to us at P.O. Box 201, Clayton, NJ 08312. No cash, money orders or credit card payments will be accepted.
ELECTRONIC AD BACKUP
Although we always maintain backup electronic copies of our publications and any information and materials provided by our writers, columnists and advertisers, advertising agencies and individuals are responsible for maintaining back-up copies of electronic ads submitted to the New Jersey Free Press news publication and the New Jersey Insider magazine.