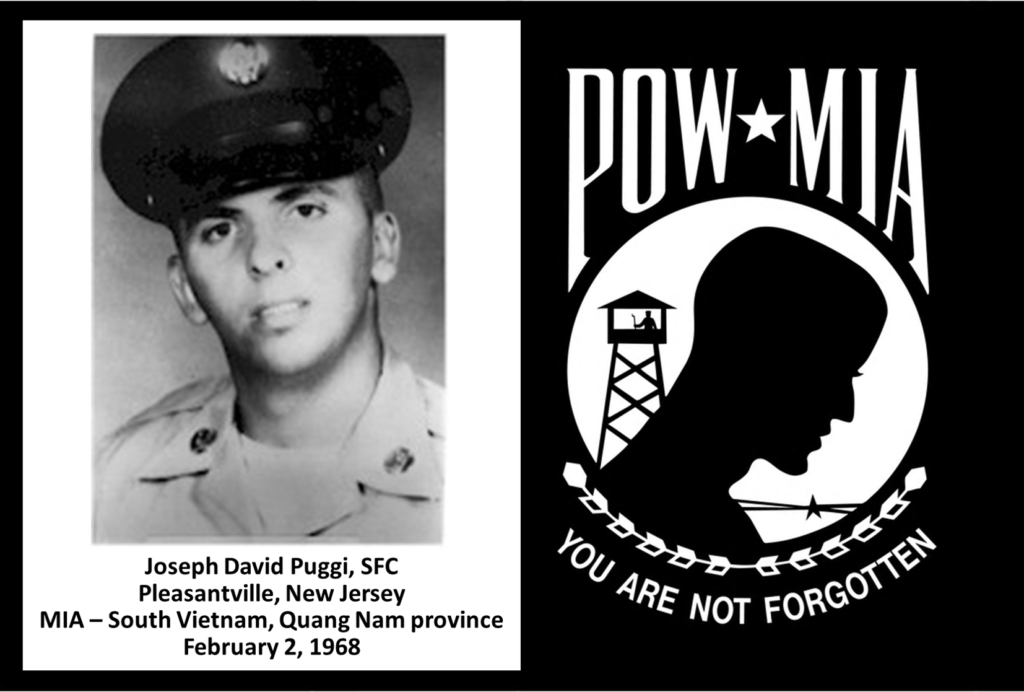 Joseph David Puggi, SFC – Pleasantville, New Jersey
MIA – South Vietnam, Quang Nam province February 2, 1968
Joseph David Puggi was born on November 21, 1946 and called Pleasantville, Atlantic County, New Jersey his home of record before being drafted into the U.S. Army and shipping out to serve his nation in Vietnam. He had the rank of Sergeant First Class and specialized as Aircraft Armament Repairman. Puggi served with 1st Cavalry Division, 1st Squadron, 9th Cavalry, Troop B.
CIRCUMSTANCES
By early 1967, the Bell UH1 Iroquois was already the standard Army assault helicopter and was used in nearly every "in-country" mission. Better known by its nickname "Huey," it proved itself to be a sturdy, versatile aircraft which was called on to carry out a wide variety of missions including search and rescue, close air support, insertion and extraction, fire support, and resupply to name a few. It usually carried a crew of four.
On February 2, 1968, Sergeant First Class Joseph David Puggi was one of several passengers in the helicopter flying from Camp Evans, Quang Tri Province to Chu Lai, South Vietnam (aircraft #66-16442). Also aboard was pilot LTC Donald D. Burnham, door gunner SP4 Charles Adkins, SFC Joe H. Pringle and crew chief SP4 Kenneth J. Patton.
As the helicopter approached the major US military base at DaNang from the northwest, it came under the base's ground radar control center. The controller monitoring all air traffic in the area lost both radio and radar contact with the Huey. The last known position of the helicopter was when it was over dense jungle approximately 12 miles north of DaNang and less than 1 mile east of the coastline on a small finger of land that jutted out into the Gulf of Tonkin. This was also 62 miles north-northwest of their destination.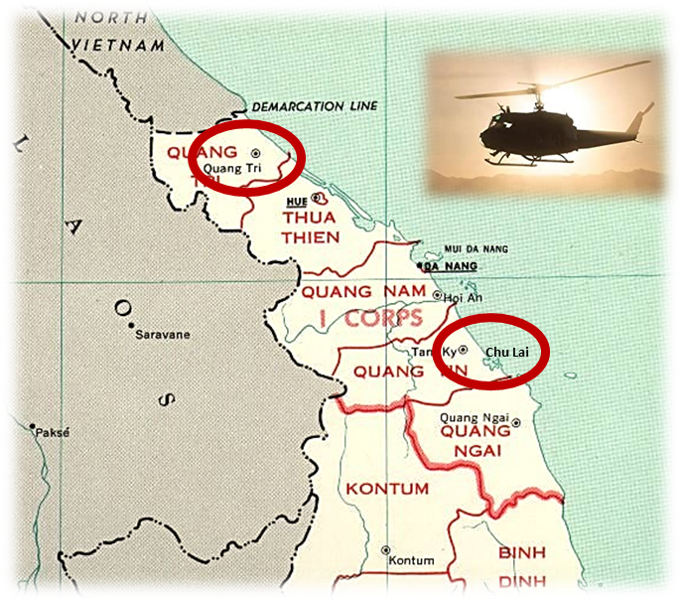 After multiple attempts to contact the helicopter by radio failed, ramp checks of the nearby airfields were conducted by another pilot from the unit in the hope that the Huey landed at one of them. Search and rescue (SAR) efforts were immediately initiated to search the area north of DaNang but found no trace of the aircraft or its crew and passengers. At the time the formal search was terminated, Joseph Puggi, Donald Burnham, Joe Pringle, Charles Adkins and Kenneth Patton were listed Missing in Action.
On May 28, 1968, nearly four months after the helicopter's disappearance, burned wreckage of the Huey was located in the general vicinity of loss and identified by the aircraft number. A search party was inserted into the crash site where they recovered an ID tag belonging to SFC Pringle, several weapons, and some bone fragments believed to be human. The ID tag and weapons were given to an unidentified major; and all subsequent attempts to trace their whereabouts proved unsuccessful. The remains were delivered to the US Army Mortuary at DaNang. Once examined, laboratory personnel determined they were human, but unidentifiable due to their poor condition and the small amount of fragments.
All recovery efforts were terminated in November Because of the density of the jungle and under-brush in and around the crash site, a thorough and complete recovery operation without specialized heavy equipment was deemed as not possible at the time.
In the US, in early 1972, members of the family of missing SP4 Charles L. Adkins were shown an 8-MM filmstrip by a US Army Casualty Officer that was approximately 20 minutes in length and showed American POWs in captivity during the war. Mr. Adkins described seeing his son and other POWs as follows: "On this film was a mess of them – hundreds of them – single file coming through a door that appeared to be metal, but not a door to the outside. Each man came through the door, and shook hands with a minister or priest, then walked down an open stairway that looked to be made of marble or granite. Each POW had on a white tag sewn on his right breast pocket with a name or a number – I could not tell which, except for the priest, who did not have a tag. Bud (SP4 Adkins) came through the door, then shook hands with the priest and walked down the steps. I knew then for certain that it was Bud, by his walk. After all the men came in and had walked down the steps, the priest gave them communion.
The Army said it was a Christmas Service." Mr. Adkins requested, and received, a still photograph made from this 8-MM showing his son and other POWs during this service. He was not able to obtain a copy of the film itself.
Additionally, US intelligence personnel interviewed a Vietnamese "rallier" (defector from the Viet Cong) who identified a photograph of Donald Burnham as a Prisoner of War. The date of this interview is unknown. CIA analysis of this report after the end of the war failed to determine why Capt. Burnham's photo was selected based on that agency's belief that none of the aircrew or passengers were seen in captivity by returned POWs.
A recovery team returned to the crash site in July 1974 to photograph it as a precursor to a full field excavation. At the time the team learned that a local Vietnamese woodcutter had removed some of the wreckage from the site. During this field survey, no evidence of human remains were found in or around the wreckage.
If Joseph Puggi, Donald Burnham, Joe Pringle, Charles Adkins and Kenneth Patton died in the loss of their aircraft, each man has the right to have his remains returned to his family, friends and country. However, if these men survived the Huey's crash, their fate like that of other Americans who remain unaccounted for in Southeast Asia, could be quite different.
Since the end of the Vietnam war, well over 21,000 reports of American prisoners missing and otherwise unaccounted for have been received by our government. Many of these reports document LIVE American POWs remaining captive throughout Southeast Asia to this day. Pilots and aircrews in Vietnam were called upon to fly under dangerous circumstances, and they were prepared to be wounded, killed or captured. It probably never occurred to them that they could be abandoned by the country they so proudly served.
Select information in this story was provided by representatives of Task Force Omega, Inc. – a non-profit, tax-exempt POW/MIA organization dedicated to the full accounting and return of all prisoners of war and those missing in action during the defense of our country.
Information about Task Force Omega can be obtained through their website, at taskforceomegainc.org.