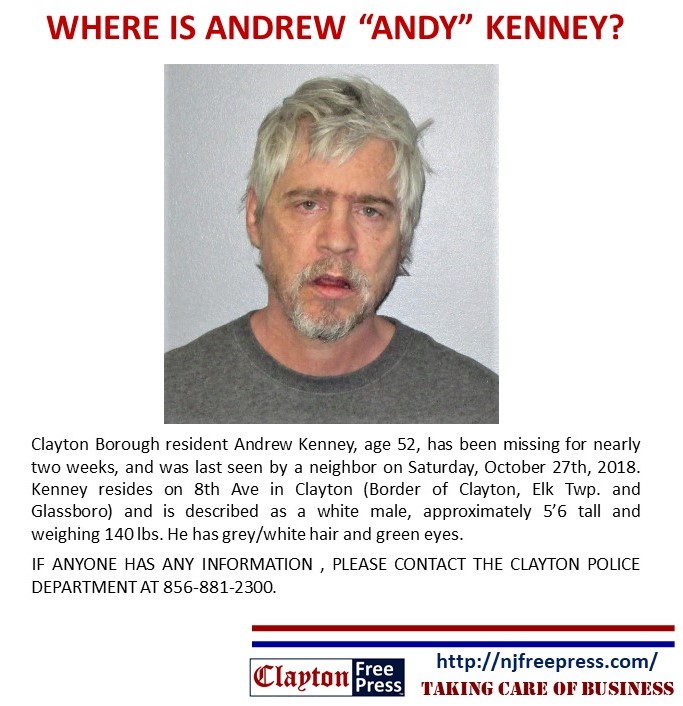 WHERE IS ANDREW "ANDY" KENNEY?
Clayton Borough resident Andrew Kenney, age 52, has been missing for nearly two weeks, and was last seen by a neighbor on Saturday, October 27th, 2018. Kenney resides on 8th Ave in Clayton (Border of Clayton, Elk Twp. and Glassboro) and is described as a white male,approximately 5'6 tall and weighing 140 lbs. He has grey/white hair and green eyes.
According to family members Kenney smokes at least a pack of cigarettes a day. His cigarettes were left at the residence along with a travel bag that Andrew Kenney usually takes with him if he plans to spend a night away from his house. Family members live in both Washington Twp. and Deptford and Andrew Kenney has visited them in the past.
ANDREW HAS AN IDENTICAL TWIN BROTHER, JOHN, WHO ALSO RESIDES IN CLAYTON – THIS MAY FURTHER COMPLICATE THE INVESTIGATION.
Kenney does not own a motor vehicle, cell phone, or a computer. Approximately 2 weeks prior to Mr. Kenney being reported missing a police officer observed a mountain bike on his property. There was no sign of a bicycle at the residence on the date he went missing.
He was officially reported as missing on Monday, October 30th when County Mental Health workers went to his residence and found the door open and Kenney not on the premise. There appeared to be no foul play as there was no property disturbed or stolen from the residence.
Kenney is diagnosed as a Paranoid Schizophrenic and he has not taken his medication from the date he went missing. As a result, he may become violent if agitated.
There are currently no leads as to a possible destination that Andrew Kenney may have been attempting to reach.
IF ANYONE HAS ANY INFORMATION , PLEASE CONTACT THE CLAYTON POLICE DEPARTMENT AT 856-881-2300.
You can also contact the Clayton Free Press and we will make sure your information is passed along to the proper authorities. You can contact us at: 856 243 2499 or Editor@NJFreePress.Com
You can also contact the Clayton FreePress and we will make sure your information is passed along to the properauthorities. You can contact us at: 856243 2499 or Editor@NJFreePress.Com
—————————————————————————–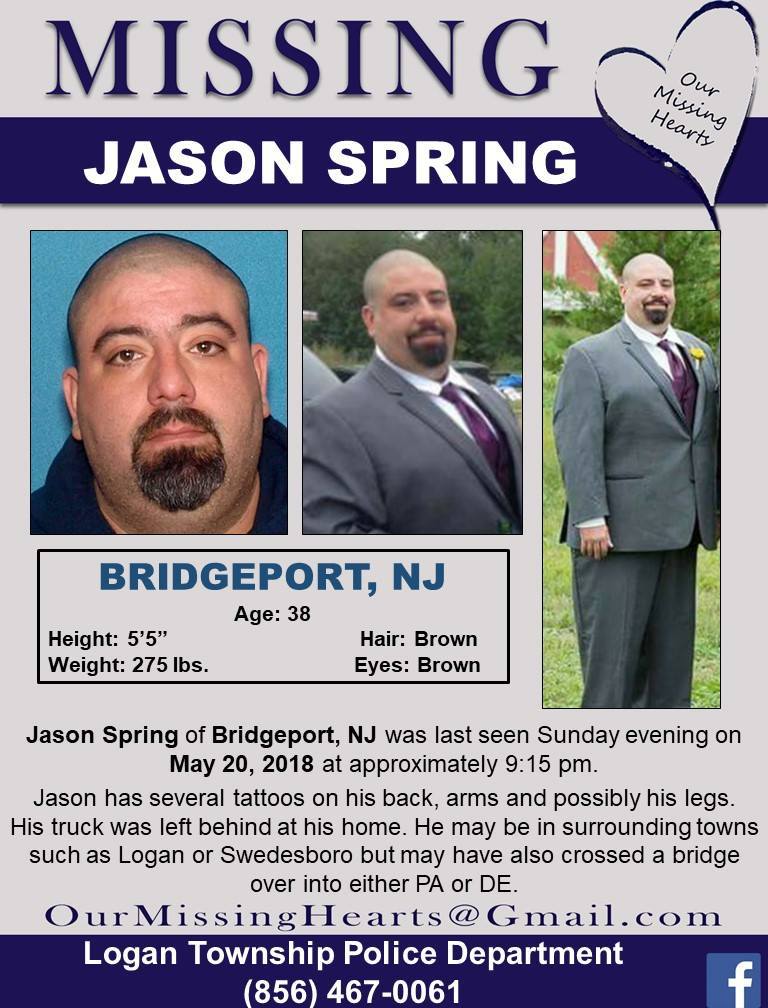 WHERE IS JASON SPRING?
Jason Spring, age 38 of Bridgeport, has been missing for seven months and someone out there can help us bring him home to his family TODAY.
Jason was last seen on Sunday May 20,2018 at approximately 9:15pm. He is 5,5″, 275 lbs., with brown hair and brown eyes, and has multiple tattooson his arms and back. He has a barbedwire tattoo around his left bicep, a flaming skull on his upper left arm, and afire department emblem with 2 axes on his left shoulder blade.
Jason is a supervisor for the Gloucester County emergency services dispatch as well as a volunteer firefighter in his hometown.
The circumstances of his disappearance remain unknown at this time. His truck, wallet, cell phone and other personal belongings were left behind at his home when he went missing. What is family reports is that it is unlike Jason to pick up and leave his beloved family, friends, and a career that he very much enjoyed.
If you have seen Jason or know of his whereabouts, please contact the Logan Township Police Department at (856) 467-0061. You can also contact the Clayton Free Press and we will forward your information along to the appropriate authorities.
Contact us at: 856 243 2499 or: Editor@NJFreePress.Com