Geator Gab for December 2020
Once again, greetings and salutations to my Yon and Beyond Teens!
As the holidays are upon us, and with the world as upside down as it is, we find ourselves appreciating our friends, family, and loved ones more and more. As much as I am not a fan of modern technology, for most of us it's the only way we have right now of staying connected with those who are important to us in our lives.
Unfortunately this season's special events, like our Turkey Trot and our New Year's Eve celebration, could not take place because of COVID restrictions. Even though it's been difficult to get through these last months and foresee the coming months without our opportunities to be together, we are active online and continue to try and make the best of things that way until a brighter days are with us.
My heart goes out to all of you who have been touched in any way by this pandemic, whether it be economically, health wise, by losing a loved one or seeing them suffer, or even if it's an unwelcome change in your daily life. Remember, we must stay strong from within and keep away from negative people. Let's find ways to be grateful that at least we are still here, still rocking, and still have the music to keep us strong.
As I've said before, you, my adopted family, are always with me, whether it's during the summer at Memories in Margate, through my radio shows Monday through Saturday, and now with our Sunday evening chats on Facebook. So many of you have been joining me for these chats that it's almost as if we're together again in person.
One of our most recent guests was Mary Wilson of the Supremes, and as with all our guests, we found out some wonderful things about her. Did you know that she curates the Mary Wilson/Supremes Gown Collection of more than 50 sets of historical Supremes stage wear from the 1960s and '70s that has toured the world? She also has written a pictorial book to accompany it, Supreme Glamour, which makes a nice holiday gift along with her autobiography, Dreamgirl of Supreme Faith: My Life as a Supreme.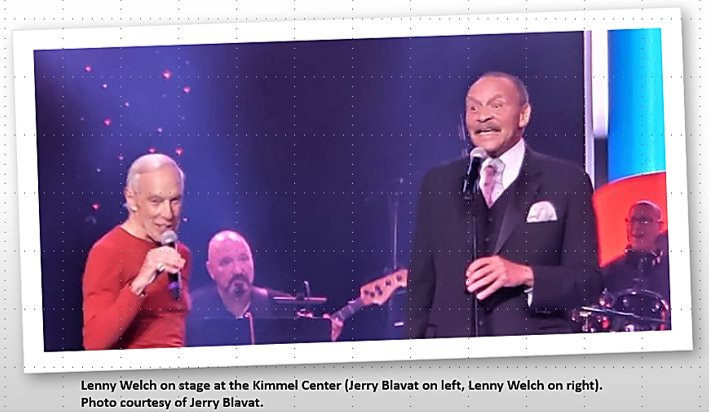 We also chatted recently with Lenny Welch, Marshall Thompson of the Chi-Lites, Jay Siegel of the Tokens, and the Duke of Earl, Gene Chandler, and we've got many more in the works. If there's someone you'd like to see in our chats, just drop a line to geatorella@gmail.com. If you follow my page Facebook page (https://www.facebook.com/Geator/) you can view all of our past chats "on demand" and post questions and comments for the artists who will be appearing next.
Speaking of holiday gifts, for those of you who've been asking how to get a signed copy of my book, You Only Rock Once, write to me directly at Geator Gold Radio, 210 Locust Street. #14G, Philadelphia, PA 19106, and send a check or money order for $18 (paperback) or $25 (hardcover), which includes shipping. By the way, it's also available as an audiobook from Audible.com and Amazon.com.
Best of all, remember that you can also win a signed copy of my book by entering the New Jersey Free Press contest to send in your favorite memories of the Geator. Your responses so far have been so great that for the first month we had to pick two winners, not just one. The contest is ongoing through March 2021 with a new winner picked every month, so keep sending in your memories! Here's the page if you would like to enter: njfreepress.com/my-best-memories-about-the-geator/
We can't forget this month's trivia question, which is appropriate for December. Do you remember the crazy 1988 movie Beetlejuice starring Michael Keaton? You'll never guess who director Tim Burton originally wanted for that role. Here's a hint: He was one of my best buddies, and on December 8 he would have celebrated his 95th birthday. Answer appears on page 14 in the December 2020 issue of the New Jersey Free Press newspaper.
Before we end our final column of the year, let me take this opportunity to wish all of you the very best for the rest of the holiday season — and most importantly I send my wishes for you and your loved ones to stay safe, stay well, and stay strong.
Remember, the music will help keep you strong, and no matter where you are in New Jersey or in the world, you can listen to me online or on the air. To find out when and how, go to https://geatorgigs.webs.com/radio.
See you in 2021 – meanwhile, keep on rocking, 'cause you only rock once.
Charley Wagner of Downingtown, PA
Charley said:
Jerry was our weekend all through High School. Friday was Chez-Vous, Saturday was the Starlight Ballroom , and Sunday afternoons were at Wagner's Ballroom. I was also lucky enough to spend Thursdays at Channel 10 filming the Discophonic Scene!!! He kept me and many other teenagers alive and out of trouble during the sixties. Thank you Jerry!!!
CONGRATULATIONS TO THIS MONTHS WINNER!
Remember – You have four more chances to win by entering the contest. One book winner will be announced each month through April 2021.
***************************************
Geator Gab for November 2020
Once again, greetings and salutations to all Yon Teens and Beyond.
It's a lot of fun when we can communicate with each other – not only on Facebook and on Mixcloud (when I do the shows from Memories in Margate) – but also through this column. I never realized how many people read the New Jersey Free Press, but it's only natural, because New Jersey Free Press is synonymous with information for real people about the real things that are happening in and around this wonderful state where we've lived, vacationed, worked, partied, and played over the years. I really want to thank publishers Bridget and Kevin Nesko for all of the great support they've given the people of New Jersey with this terrific free paper. People are the most important part of our great country, and the Free Press supports not only New Jersey's people but also the small businesses that are the heart of our communities.
Kevin and Bridget stopped by Memories a few weeks ago so I could autograph some of the books that will be given away as prizes in the ongoing contest where you can send in your Favorite Memories" of the Geator. I want to thank all of you who have responded so far and I am looking forward to seeing what you have written and to reliving those memories with you. The contest is ongoing with a new winner picked every month till all six copies of my book, You Only Rock Once, have been given away, so keep submitting your favorite memories of the Geator. Here's the webpage if you would like to enter: njfreepress.com/my-best-memories-about-the-geator/
One of the best ways to stay connected is with our live interactive Sunday evening chats, which you can see on my Facebook page, Facebook.com/Geator. We've had some wonderful interviews so far with Gary U.S. Bonds, Bobby Rydell, songwriter Jerry Fuller, Frankie Avalon, and Little Anthony Gourdine — and look for upcoming chats with Dion, Frankie Valli, Darlene Love, Dionne Warwick, Mary Wilson of the Supremes, and many more. One of the wonderful things I find about these chats is that you, the audience, know so much more about these beloved artists and the happiness they brought us beyond just the music they recorded. You can post comments and questions during these chats, and often the artists are as surprised as I am at the facts you come up with.
As I said last month, show business people are no different from you and I. We have families, we've had ups, we've had downs, we've had sickness and disappointments, tragedy, happiness, and yet we remain connected to each other and to our fans, who bring us so much joy. I am certainly fortunate – thinking back to my early days before radio as a dancer, a record promoter, a manager, and more – that after 60 years I still have the friendships and the love and respect from all these wonderful artists and still have the tremendous good fortune to be with my fans, who were teenagers when we first met. If we can't meet in person these days, we'll meet online and make the best of things for now.
So if there are any questions you have for me, any suggestions, or anything you would like to know or ask about the Geator, you've got it right here. Just write to geatorella@gmail.com.
Now that fall is here and we're approaching the holiday season, we plan on taking a hiaitus from doing the live broadcasts from Memories in Margate. That doesn't mean we won't be together. We've got special events planned for the holidays, including our New Year's Eve gala. We'll keep you informed right here in the Geator Gab. Don't forget Philly's star-studded Thanksgiving Day broadcast that we've been taping in advance over the past few months in lieu of this year's parade. It's amazing that this would have been the 100th year of the parade, but you most definitely will enjoy the festivities November 26 on 6abc TV. You still can enter the 6abc Dunkin' Thanksgiving Day Parade "Tune-in-to-Win Sweepstakes" to win some great prizes including Eagles tickets, vacation packages, and a year's supply of coffee and donuts! Just go to: https://6abc.com/6abc-watch-and-win-contest/5678593/ for all the details.
Did you know that we're still on the radio six days a week? For complete info on how to listen from anywhere in the world, go to www.geator.net and click the RADIO tab. Click CALENDAR to find out about all our upcoming appearances and live broadcasts, and of course you can follow the Geator online at Facebook.com/geator.
Well, I think that wraps it up for now. But before I go, let's bring back a regular feature of the old Geator Gab — our trivia question. We'll do it every month, so here it is for November: Marlon Brando, Elvis Presley, Paul Newman, Tony Curtis, Robert Wagner, Anthony Perkins, and Warren Beatty all were considered for the lead role in a big 1960s movie musical. Can you name the movie and who eventually got the role? The answer is on page 14 of this month's newspaper.
Till next time, keep on rocking, 'cause you only rock once!

Damian Capua of Somers Point
Damien said:
Listening to the Geator as a young buy in the 60's on WCAM out of Camden always made my day. Listening to Jerry the last week of WIBG 99 was awesome. Watching the various TV Shows he has done over the years especially when he came on after Dark Shadows on WFIL TV 6 and had my childhood barber Billy Harner on was great. My biggest thrill after listening my entire life was working at Memories in Margate during the Summer of 1985. Playing music trivia with him after Memories would close, eating the great food Mama Geator would cook up for the staff, and meeting his Celebrity friends that would stop by and hang out like Harry Guardino, DJ Joey Reynolds, Jimmy Beaumont, The Elgins and others. Working with a great staff like Gary Chik, Stan, Jimmy, Tommy R., Carmen, Rita, Deserie and Tommy McC, just to name a few. The best part was Jerry nickname me – "Tom Hanks". He would say Tom Hanks is in the house tonight and people would actually come in looking for the real Tom Hanks.. hahaha!
Christine Palladino of Brigantine
Christine said:
He always hugs me. I love Jerry. I have Down Syndrome and he always makes me feel special. I love the music he spins.
CONGRATULATIONS TO THIS MONTHS WINNERS!
Remember – You have five more chances to win by entering the contest. One book winner will be announced each month through April 2021.
***************************************
Geator Gab for October 2020
Let me say – for the first time in the New Jersey Free Press — greetings and salutations to all Yon Teens and Beyond Teens. It's been quite a while since I've had the pleasure to chat via the written word. No need to tell you what's been happening with me and the Geator Gold guys and gals if you've been listening to our radio shows or watching our live events on Facebook and Mixcloud. You've seen — as the song says – that I can't help myself . . .it's the same old song and these memories keep lingering on.
And now thanks to the great folks at the New Jersey Free Press I'll have the pleasure once a month to tell you about the people, the happenings, the music, and the things that are going on in the South Jersey area.
As you all know, it was an unusual and torturous summer for most – if not all of us. You know that for a performer not to be able to reach an audience, and having no way of knowing in the moment that you're satisfying the people who've come to see you, is really tough. So many of my show business friends and colleagues unfortunately have been in the same boat. But we got by with the help of the music. And as we look forward to fall and winter, let's do it with a positive spin. A vaccine is sure to come — maybe not soon enough, but it will be developed. Slowly but surely things will get back to normal, or we will learn to adapt to the new ways of doing things. And I think through all of this we have to realize and appreciate the blessings we still have.
Of course, due to the pandemic, most or all of the annual events, parades, and festivals have been put on hold or are being done online. One thing that is certain is Philly's 6abc Dunkin' Thanksgiving Day Parade, which will be done on a virtual platform that you will be able to watch on 6abc.com. And I'm fortunate enough again to be a part of it through WPVI Channel 6 ABC. I'll be introducing Martha Reeves and the Vandellas with my "Heat Wave" rap, plus Sister Sledge, whose song will remind us that whatever race, color, creed, religion, age, or any other denomination, "We Are Family" – and we will survive in this great country we call America. And for info on how to enter the 6abc Dunkin' Thanksgiving Day Parade Tune-in-to-Win Sweepstakes, go to: 6abc.com/6abc-watch-and-win-contest/5678593/
Personally, I can't wait until I am able once again not only to broadcast and play my music, which I've continued to do, but to see all of your wonderful faces that have been the best part of my career throughout all these years. I'm talking about every age, for as you know, music reaches every ear, young or old, and I promise we will dance and be together and create new memories all over again before too long. Stay tuned and we'll keep you posted.
Till next month, remember — keep on rocking, as my book says, 'cause "You Only Rock Once."
Here's how to listen and view the Geator seven days a week via radio, smartphone, or computer
MONDAY THRU FRIDAY (all times are EST)
• 10 am – 12 noon: "The Best of the Geator" on phillygoldradio.com
• 5-7 pm: WVLT Cruisin' 92.1 FM in Millville & South Jersey
• 5-7 pm: WISL 1480 AM free internet radio at wisl1480.com
• 7-9 pm: WTKU Kool 98.3 FM or kool983.com in Atlantic City & surrounding areas
• 10 pm-12 midnight: WTYM Tyme 102.9 free internet radio at wtym.org
SATURDAY
• 6-7 pm: WXPN:88.5 FM or xpn.org
• 6-8 pm: WOND News Talk Radio 1400 AM or wondradio.com
SUNDAY
6-7 pm Live and Interactive Chat with the Geator via my page: Facebook.com/Geator
Most or all of the above shows can be accessed via the myTuner-Radio app or at tunein.com
Complete details at www.geator.net (click the RADIO tab). And for details about my appearances, virtual or otherwise, click the CALENDAR tab.