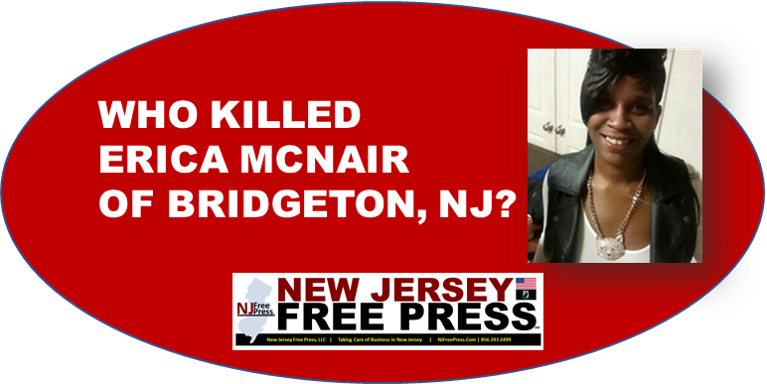 WHO KILLED ERICA MCNAIR OF BRIDGETON, NJ?
JANUARY 2022
Bridgeton – Like all Law Enforcement members in the South Jersey region, the Cumberland County Prosecutor's Office continues to seek information and leads regarding homicides that have taken place in the past but remain unsolved.
This month, we feature the murder of ERICA S. MCNAIR, 44, who was gunned down outside of her home in Bridgeton on August 11, 2018.
According to press and police reports, Erica McNair was shot in the head shortly after 1:30 a.m. while she and two other people were on the front porch of her house at 243 Walnut Street in Bridgeton. Bridgeton police had gone to the area following a shots-fired call. McNair was transported to Inspira Medical Center in Vineland and later to Cooper University Medical Center in Camden, where she died from her injuries. The two unknown people fled the area, and numerous shell casings were found. Two "unknown subjects were seen fleeing the area" after the gunfire, the Prosecutor's Office said.
No arrests have yet been made.
Ericka Shawn McNair was born on March 8, 1974 in Bridgeton, NJ to Eddie Jones and Sharon Denise McNair. She was a lifetime resident of the area. She attended Union Baptist Temple and was formerly employed at the ALMS Center. Ms. McNair left behind her children, Tyrell, Tybreem, Shakur, Brion, Davonee, Vanish and Tyrese McNair, three grandchildren, her mother, Sharon Denise McNair and father, Eddie Jones, brothers, Eric, James and Kevin, sisters, Sunnetta and Stephanie, and a host of family and friends. Ms. McNair was laid to rest at Laurel Lawn Cemetery in Bridgeton.
If you have information that could assist law enforcement with this investigation, you are encouraged to contact Lieutenant George Chopek, #209 | CCPO – Criminal Investigation Bureau Commander at Major Crimes Unit | 856-453-0486 Ext: 11837 | georgech@co.cumberland.nj.us
If you wish to submit information or a tip anonymously, go to www.njccpo.org/tips. The CCPO TIP System to submit a 100% anonymous TIP which will keep your identity concealed. Users can submit TIPS with no need to download an APP and can even chat live with officers, all the while remaining anonymous. Law Enforcement CANNOT identify you while using the TIP System.